Want to Make a Profitable Investment? These Rare Whiskies can Help You!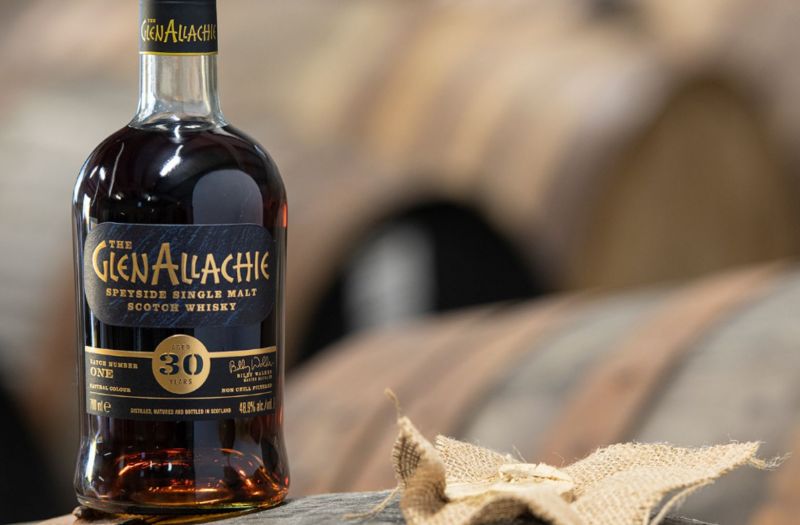 12/07/2022 Old and rare whiskies are performing better as an investment than other securities and luxurious assets!
Whiskey enthusiasts may keep on debating on whether it's better to drink it straight or with a cocktail! But have you ever thought about investing in some of these golden spirits? In the same way that gold, wine, and real estate are excellent alternative investment assets, so is whiskey. During recessions, periods of high inflation, and unstable economic conditions, the value of whiskey can remain stable or even rise.
In addition, whiskey investing has become extremely popular recently, and this might be the ideal time to ride the trend. Even during the pandemic the demand and price of whiskey have increased rapidly and the rare whiskey bottles are frequently sold for hundreds of thousands of dollars.
Many people have noticed that currently, whiskey is one of the best alternative investments and they are trying to make use of the opportunity. But the challenging part is to understand how to invest in a whiskey and also recognize the whiskey which will be profitable for investment.
What Characteristics you Should Look for in a whiskey?
If you're interested in investing in whisky, you must only think about buying rare bottles and casks that have premium quality whiskey. It has been seen most of the time that the marriage between quality and rarity captivates the attention of whiskey enthusiasts and investors. Even an expert may find it difficult to locate these whiskies because of the numerous factors that must be taken into account:
Rarity: A whiskey might become more valuable when there is less number of bottles.
Age and Vintage: Whiskey increases in value as it becomes older. However, there are a few exceptions for limited edition bottles or special vintages.
Distillery and Brand: The brand and distillery of the whisky are commonly significant indicators of its quality.
Cask Type: The flavor and quality of a whiskey are largely influenced by the aging process in a cask. The size, oak type, seasoning (such as ex-bourbon or ex-sherry cask), and processing (such as toasting and charring) of the barrel are all important factors that impact the taste and texture of the finished product.
Warehouse and Whiskey Making Process: A whiskey's quality and uniqueness can be determined by the area and methods used during its production and aging.
Synergies of Whiskies: Collectors frequently concentrate on sets of bottles that they think are highly valuable or on particular distilleries that they are regularly collecting from. Therefore, collectors are more likely to target bottles that have synergies, are a part of a collection, have a unique bottle number, or have a compelling story.
[[relatedPurchasesItems-31]]
The aforementioned factors all serve as indicators of rarity and excellence. Even though most of the criteria are checked, you might still find that some expensive and rare whiskies haven't risen in value over the past ten years. This is due to the fact that trend investing frequently causes whiskey prices, like "hot stocks," to increase dramatically. For this reason, even while some of the rare whiskies produced by lesser-known distilleries can match the quality of the most costly whiskies, prices of rare whiskies from well-known distilleries like Macallan or Bowmore frequently increase.
Some of the Best Whiskey Bottles to Invest in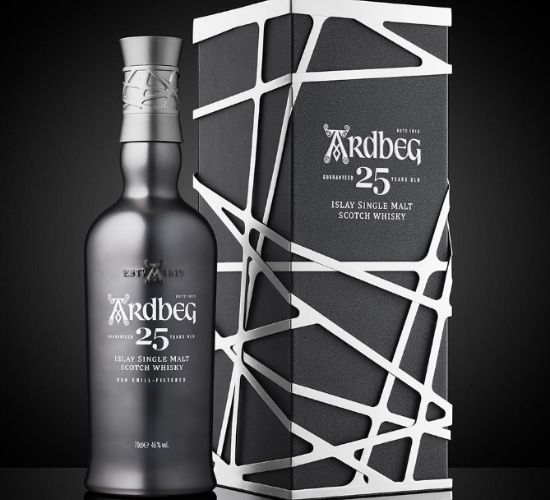 Image Source- Ardbeg
Ardbeg- Guaranteed 25 Years Old
The oldest Ardbeg expression to date is the Ardbeg Guaranteed 25 Year Old, which was distilled in the 1990s, a challenging time in the company's history. Due to its age, the Ardbeg 25-Year Old has been added to the distillery's core line of whiskies but due to its age, the whiskey is available in limited quantities.
Ardbeg 25 is beautifully packaged in a gun metal-colored bottle and comes in a case with a sophisticated metallic version of the iconic Ardbeg knotwork, signifying the unrestrained complexity of this exceptional whisky.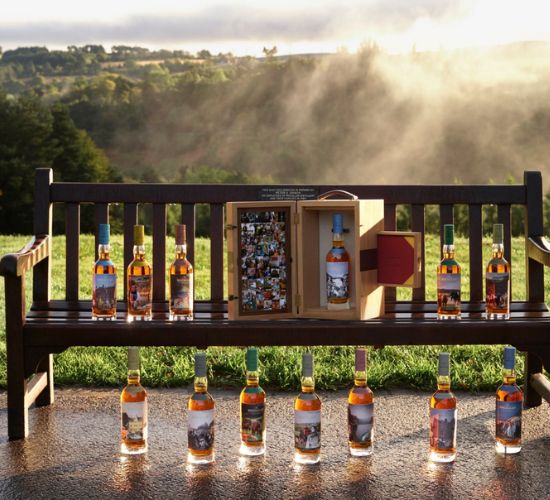 Image Source- Macallan
Macallan x Sir Peter Blake – Anecdotes of Ages Collection
The third time that Macallan and pop artist Sir Peter Blake has worked together is on the Anecdotes of Ages Collection. This product was created to honor and tell the tale of prominent distillery employees from both the past and the present. The collection has 13 unique label designs that are shown on a printed scroll that comes with every bottle.
Every bottle has a unique label made of creative collage art that tells stories about their history, community, and the spectacular natural setting of The Macallan Estate.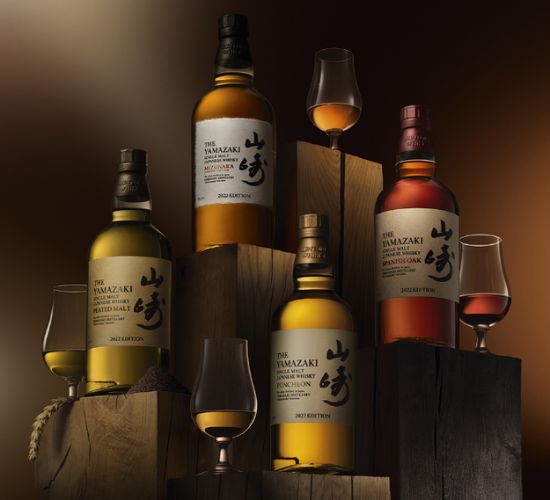 Image Source- Yamazaki
Yamazaki Single Malt Limited Edition
The underlying concepts of Yamazaki Single Malt Whisky are revealed by the House of Suntory with the release of the 2022 Yamazaki Limited Edition Tsukuriwake Selection.
Four Yamazaki single malts- Puncheon, Peated Malt, Spanish Oak, and Mizunara together make up Yamazaki, the inventor of Japanese single malt. Yamazaki is considered the father of Japanese single malt. The limited-edition single malt was created considering gifts in mind and is therefore packaged in gift boxes.
Image Source- GlenAllachie
GlenAllachie 30-Year Old Batch 1
Master Blender Billy Walker has continuously emphasized his intention to utilize their antique stocks to create a genuinely exceptional thirty-year-old since the beginning of his work with the GlenAllachie spirit. With this goal in mind, he carefully watched the whisky's growth inside each cask until the best possible interaction between the distillery and the wood was accomplished.
This small-batch release, which was bottled at 50.8 percent cask strength, natural color, and no chillfiltration, represents GlenAllachie in its purest form. It is the ideal marriage of cask and distillery characteristics.
Here are some ways how you can invest in Whiskies?
Investing in whiskey is more complicated than purchasing stocks, which only requires a broker account on a trading platform and the required minimum deposit. There are many stakeholders and a higher learning curve that you will come across while investing in whiskey. Investments in whisky can be done in three ways.
1. Purchasing Whiskey Bottles
The simplest way to invest in whiskey is to buy bottles that you can store at home, in a safe, or in a special storage facility. Experience and knowledge are very important when selecting the perfect whisky bottles. Choosing a whiskey from a distillery that is popular among collectors is the most typical and secure option.
There are three primary ways to purchase whiskey:
Direct Purchase: This is the most trustworthy method of purchasing a bottle because it is obtained straight from the distillery or authorized distributor. You rarely find a better deal or a better assurance that bottles are well-preserved when it comes to retail prices.
Parallel Market: Parallel markets are places where bottles are bought from distributors or private sellers and sold at a markup, such as a specialty whiskey shop and whiskey brokers in your friendly neighborhood.
Auction Market: Secondary market prices are established on the auction market, where you may also find some of the best or worse deals. Both online and live auction purchases should only be made by experienced buyers.
Make sure to deal with reliable merchants, brokers, and auction houses while purchasing rare and valuable whisky bottles to avoid purchasing fakes, which can occasionally be difficult for rookie buyers to differentiate from genuine bottles.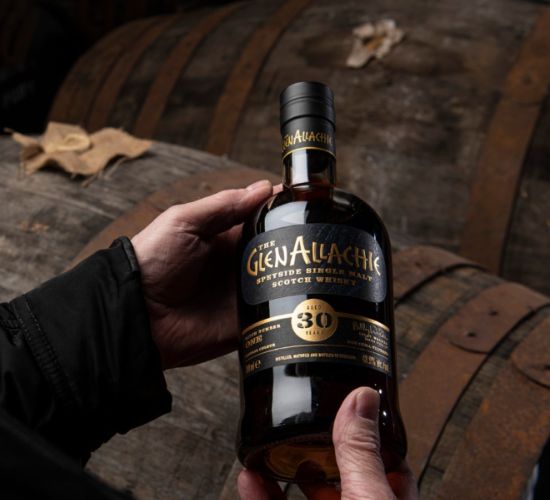 Image Source- GlenAllachie
2. Acquiring Whiskey Barrels
The next logical step for experienced whisky investors and collectors is to enter the world of cask ownership, which necessitates a particular level of expertise and passion for whisky to purchase a cask. But more recently, when interest in investing in whisky as an asset class increased, many amateur whisky inves in tors rushed to buy their very own cask.
A newly filled cask or an older cask that has undergone years of maturing can be purchased for cask ownership. Although the cost of aged casks is frequently higher, it is safer to purchase a cask that has been aged because the whisky has begun to display qualities that define it. On the other hand, freshly filled casks are frequently less expensive, much riskier, and have a longer-term commitment because the quality of the aged whisky cannot be assured. Since the value of whisky often rises with age, one must purchase and store such casks for at least 6 to 10 years before selling them in order to gain more profit.
3. Investing in Whiskey Funds
To satisfy the growing demand for whisky investments, private whisky funds are being put up. These funds allow investors to purchase shares of a collection of rare whiskies without having to deal with the difficulty of choosing or storing them.
These financial products are available to retail investors and are listed on regulated markets. The management and other fees that are charged, which frequently have an impact on long-term compounded returns, must be kept in mind while thinking about any sort of fund.
The process of investing in whisky requires much research, knowledge, and patience. Like any investment, it comes with risks. But, if you already have a love for single malts and other whiskies, a passion for rare and priceless objects, or simply want to explore a fascinating world where science and art meet, it may be extremely enjoyable.
If you want to build a private label brand for your whiskey or wine you can check the Guide To Building A Successful Private Label Brand at the International Bulk Wine and Spirits Show. There you will also get to know about topics like developing private labels for retail stores, which might help you if you are interested in the retail sector of wine or spirits. The International Bulk Wine and Spirits Show (IBWSS) is an annual trade show and conference that brings together brings small and medium-sized importers, distributors, retailers, and suppliers together under one roof.
Written by Aparna Dutta, Beverage Trade Network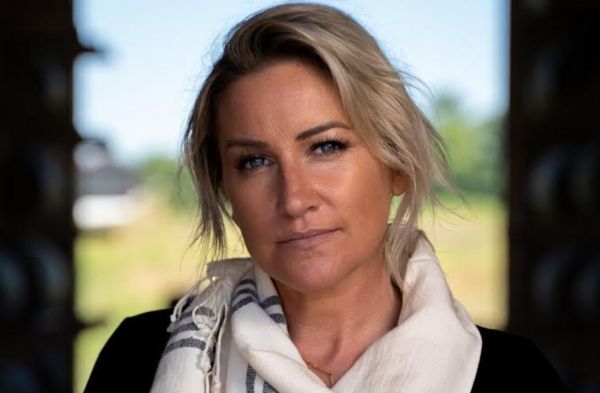 Interviews
Jackie Zykan, a well-known face in the spirits sector, shares her experience working as a former master taster at Old Forester, Brown Forman, and her beginnings as a master blender for Hidden Barn Whiskey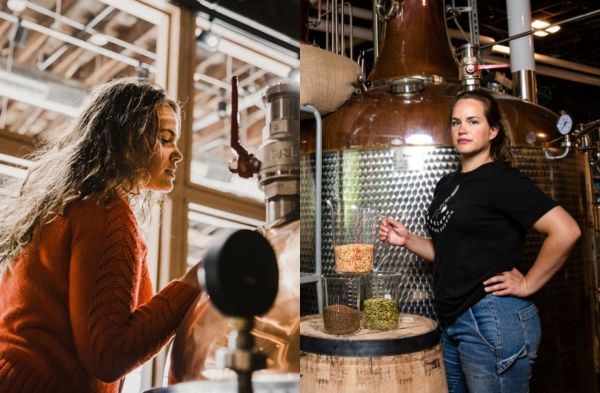 Interviews
Master Distiller Molly Troupe on the biggest challenges in the distillation industry, advice for young distillers, and her story behind crafting Freeland Spirits.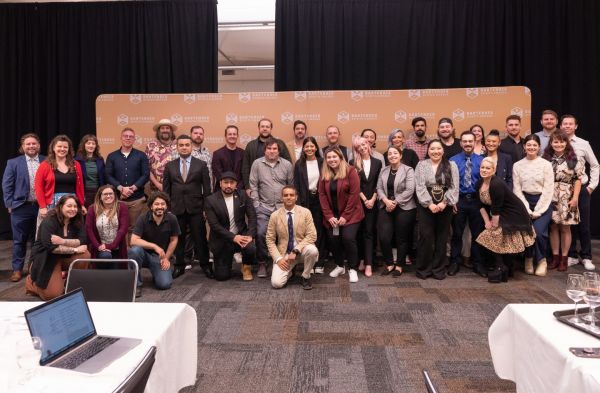 News
The results from the third edition of the Bartender Spirits Awards are now out and here are the highlights from America's leading spirits competition for the bar industry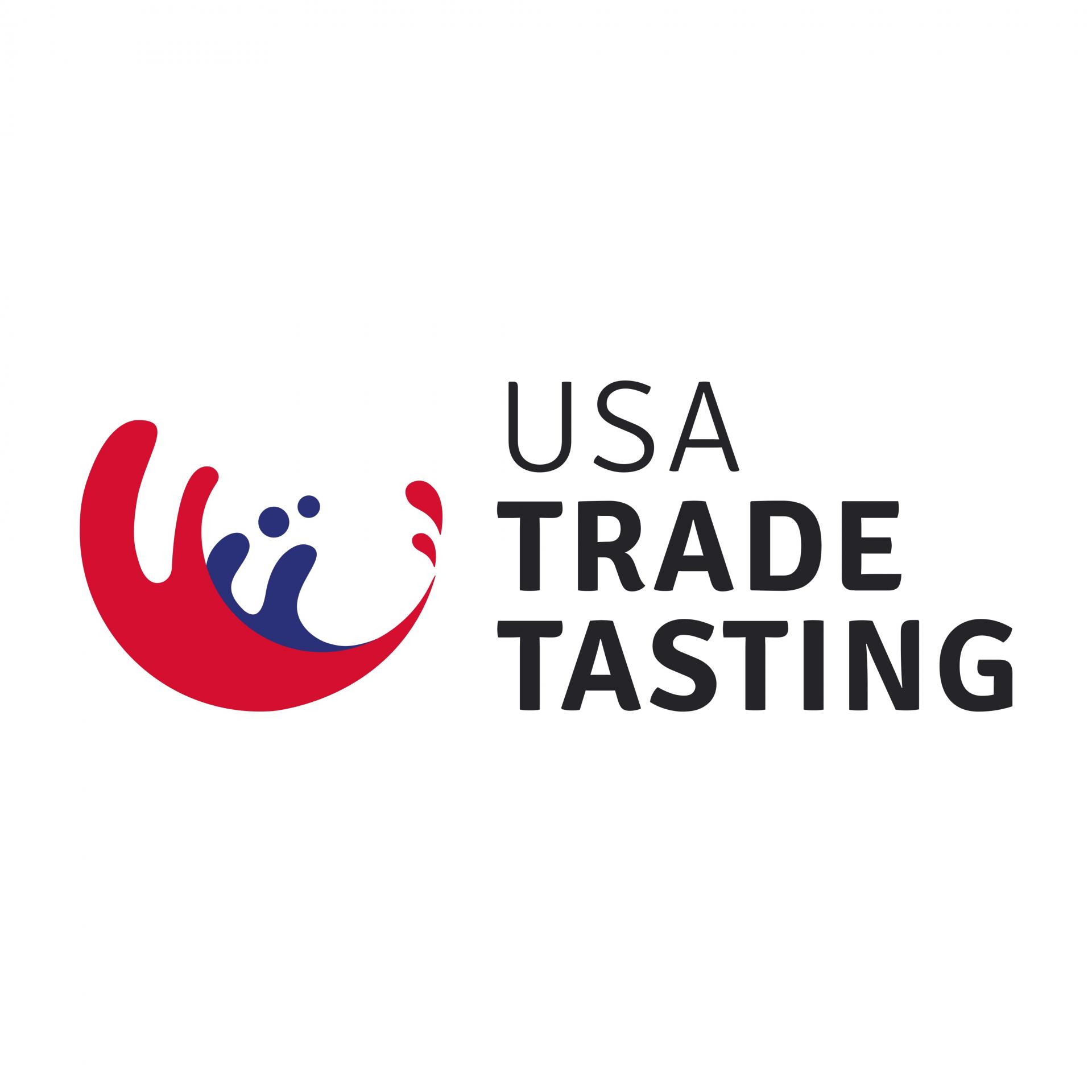 Morgan MFG, 401 N Morgan St Suite #204A, Chicago IL 60642
Register Now
South San Francisco Conference Center, 255 South Airport Boulevard, South San Francisco, CA 94080, United States.
Register Now