Improve Your Speed and Efficiency Behind the Bar With a Workstation Setup Procedure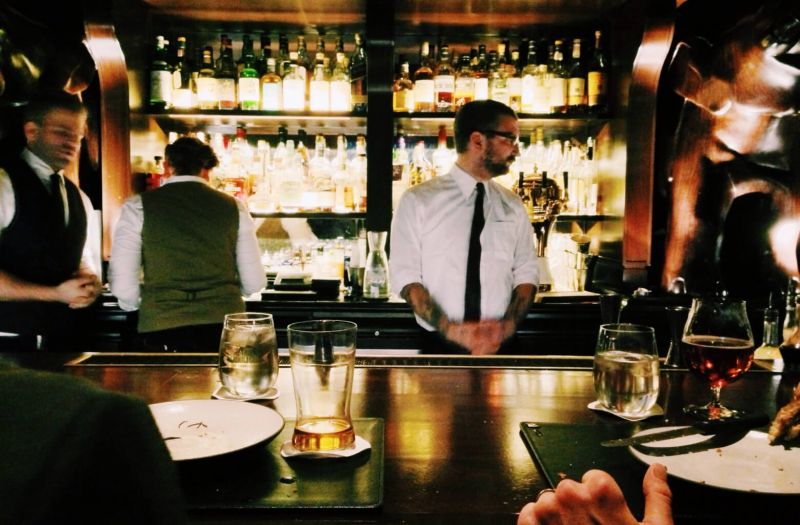 Setup your workstation and personalize it according to your routine environment.
In order to offer customers quick, efficient service every time they come to your bar, it can be very helpful to develop a personalized workstation setup routine that takes into account every aspect of operating a bar. Having this workstation setup routine will do more than just boost speed and efficiency – it will also lead to improved overall customer experience, make it easier to upsell customers to higher-margin drinks, and increase overall sales.
For example, one common workstation setup procedure takes into account the following factors:
Napkins
Glassware
Ice
Spirits
Mixers
Tills
Bar counter
Bar menus
Ambience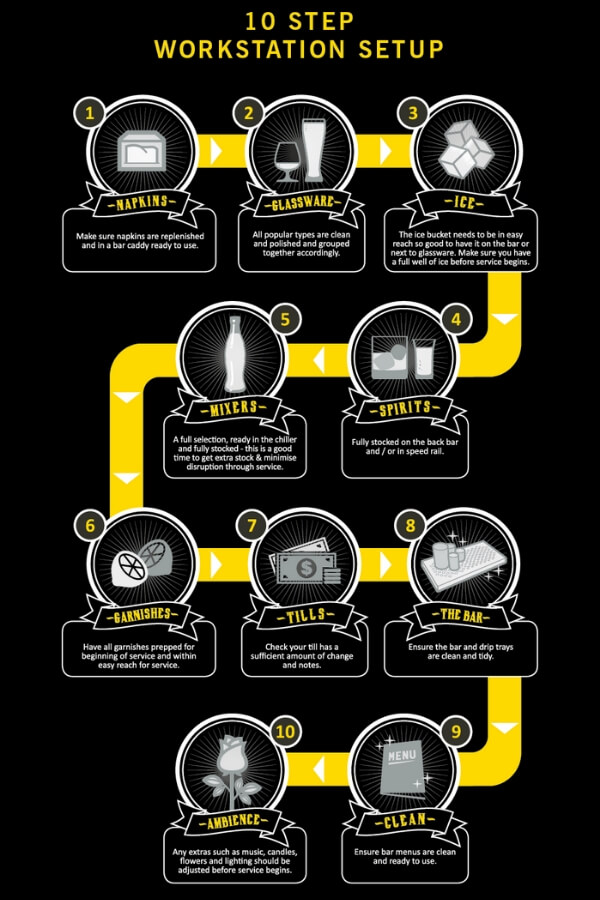 Source: Diageo Bar Academy
As can be seen, even though your primary job is managing the bar and serving drinks, items like glassware and bar menus are also part of the overall preparation required for maximum speed and efficiency.
Pre- and post-shift preparation for speed and efficiency
The key here is to be as customer-centric as possible when thinking about the initial elements to include in your workstation setup routine. For example, when it comes to napkins, you want to make sure that the supply of napkins has always been replenished prior to the start of service. And when it comes to glassware, you want to make sure that all are clean and polished, and then grouped together by type. This makes it much easier to find the specific type of glass for a certain cocktail you might be making. And it also ensures that customers are always getting the best possible presentation for their drinks – nobody wants to pay $15 for a premium cocktail, only to have the order arrive in a glass with smudge marks on it.
Then, when it comes to the making of actual mixed drinks and cocktails, think about all the little things that go into making a great customer experience. All spirits should be fully stocked on the back bar, with all labels facing out. Moreover, make sure that you have a full supply of mixers so that you can make any drink required. As needed, chill them in advance so that they are ready to go as soon as you open your doors.
In addition, think about how you can improve the overall customer experience. Tills should always have a sufficient amount of bills and change so that customers don't have to wait for you to make change for them. Also, it almost goes without saying that the bar countertop and all bar mats should be clean and presentable.
As part of boosting the overall ambience of your bar, you want to make sure that all the different aspects of your bar – including the bar menus and the music playing on the sound system – are just perfect. All the little touches, such as adjusting the lighting, and making sure all bar stools have been cleaned properly, can make it a much more enjoyable experience for any customer.
How a workstation setup procedure helps speed and efficiency
There are different ways to measure efficiency, such as the number of drinks poured per hour, or the number of customers served within a certain time period. But, just keep in mind, efficiency also needs to keep in mind factors like overpouring, wrong orders and leaking pourers. All of these can bring down the efficiency of your bar. For example, if you are serving 10 customers per hour, but one or more of those drink orders are wrong, and another drink order has you overpouring, then your real speed and efficiency is not 10 customers per hour.
In fact, there have been a number of studies done on bartender efficiency, and the statistics are eye-opening, to say the least. For example, when it comes to overpouring, the average bartender on shift wastes the equivalent of 1 cocktail valued at $13.00 per day. And when it comes to confusing and mixing up orders, the average bartender and serving staff waste the equivalent of three mixed drinks valued at $10.00 each per day. And that's not all – leaking pourers as the result of poorly maintained equipment can bring down efficiency behind the bar even more.
The customer should always be priority No. 1
In addition to creating a personalized workstation setup routine, it's also important to create what is sometimes referred to as a priority model. This model simply lists the top priority items in your bar, ranked from the highest priority to the lowest priority. This ensures that you are always taking care of the most important factors as a first priority.
And at the very top of any priority model needs to be the customer. As noted above, it is all the simple things – like making sure all bar menus are clean and presentable – that help to create the perfect customer experience. Whenever a customer arrives at the bar or at a table, you should always acknowledge him or her, and offer a bar menu if needed. In addition to any small talk you might make, you can also give suggestions about what to order, or point out specials and promotions. As a general rule of thumb, you should always try to serve a customer as soon as possible. Then, keep an eye out for a possible second order.
Top tips for personalizing your setup workstation routine
With experience, every bartender will eventually develop a personalized routine that works best for him or her. One important way you can personalize a routine is by developing a set procedure for dealing with a round of drink orders that comes in, all at the same time. You should also develop a routine for making premium and artisanal cocktails. If there are any unique elements of the cocktail preparation that you can display to the customer, for example, it can help to convey the premium nature of the drink that he or she just ordered.
Finally, don't forget about common sense tips for boosting your overall speed and efficiency. For example, the "two-step rule" says that all equipment, mixers, and glassware should be within two steps of where you typically stand behind the bar. This ensures that you can fill drink orders quickly and efficiently. Over time, be sure to calibrate (and re-calibrate) your overall workstation setup routine so that you are always delivering best-in-class service to customers.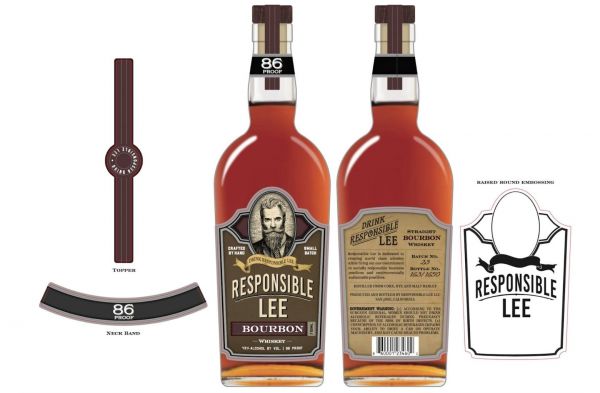 Suppliers Spotlight
Responsible Lee is a craft American whiskey producer, dedicated to creating world class whiskey while living out our commitment to socially responsible business practices and environmentally sustainable practices.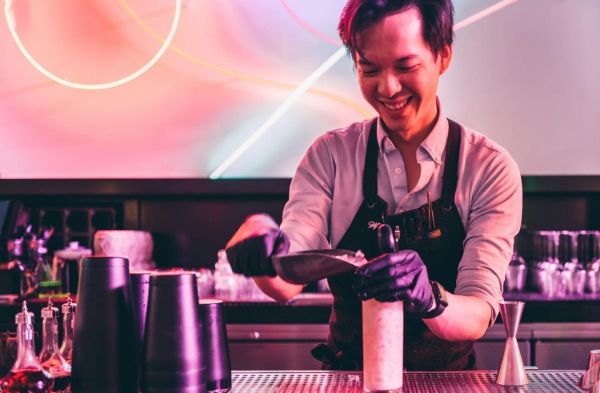 Interviews
From working behind the bar to owning his own bar, William Tsui shares with us his essence of bartending.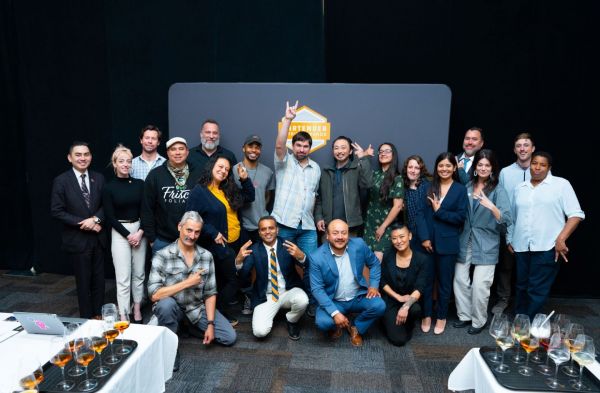 News
The much-awaited results for the 2022 Bartender Spirits Awards are now out!
South San Francisco Conference Center, 255 South Airport Boulevard, South San Francisco, CA 94080, United States.
Register Now