Studying Mixology: Top Bartending Schools in the World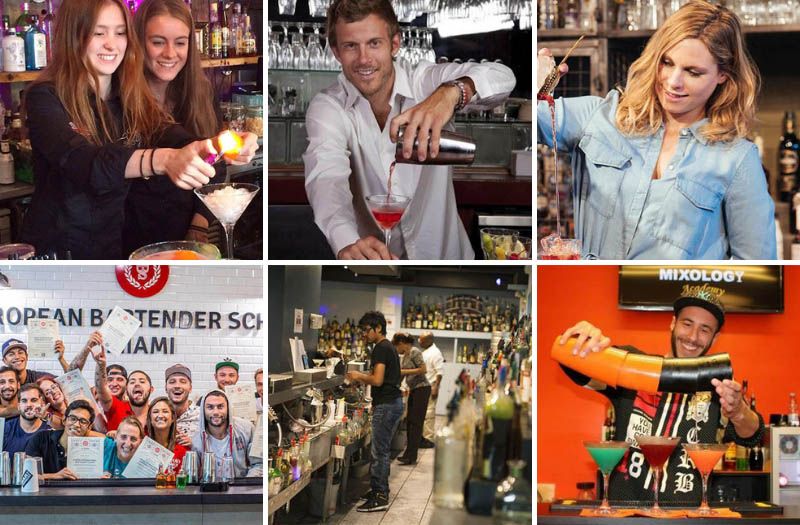 28/12/2021 Bartending is a skill that has to be mastered over a lifetime. This article looks at the most popular bartending schools around the world.
Bartending is an art as well as a science. Bartenders can make ordinary processes look like magic. Making great drinks with a solid performance is pure alchemy. Knowing what to blend how and when is an underrated skill. This skill can be acquired and polished over time. A great head starts to the same is a robust bartending course. These courses are the essence of experiences of legacy bartenders turned into bite-sized information.
Bartending Schools around the globe have emerged and flourished over the last few decades. If you are inclined on learning bartending or allied skills, here are some schools around the world for you to look at:
The European Bartending School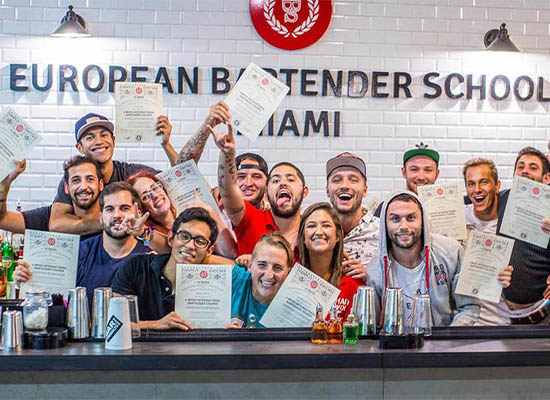 Overjoyed students as they receive their EBS certificates. Image source: European Bartender School
The European Bartending School is known as the best Bartending School globally. The institute was opened in 1999 and has certified over 70,000 bartenders working around the globe today. They have 28 schools across Europe, Asia, North America, Australia, and Africa that combine behind-the-bar skills with social experience. EBS' curriculum makes its students placement-ready. 20 years of industry expertise and teaching experience at the EBS is now also available as an online course. Students of selected EBS courses will gain access to an exclusive online job platform EBS MatchStaff which connects EBS graduates to leading hospitality locations worldwide.
[[relatedPurchasesItems-31]]
New York Bartending School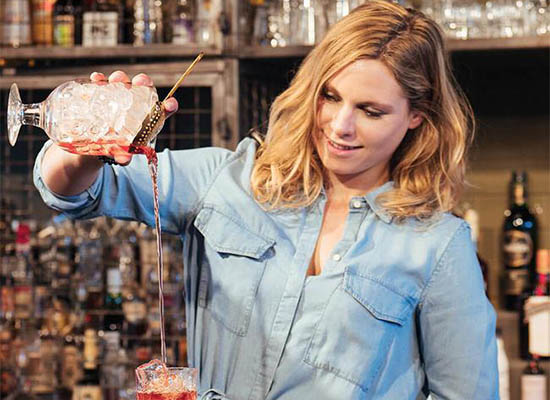 A girl pouring cocktail. Image source: European Bartender School
The New York Bartending School is a state-licensed school whose courses are considered standard across the world. This school assigns students their own cocktail stations and allows them to work with actual alcohol since day 1. Emphasis is also levied on classic cocktails served in upscale cocktail lounges.
The speakeasy bar on-premise allows students to make cocktails on-premises. The New York Bartending School's three-part Bar Exam is considered the toughest bar exam around the world. Unlimited practice, exam retakes, and refresher courses are also offered for students. They offer full-day, evening, and flexible schedules, and you may register online or in person.
American Bartender's School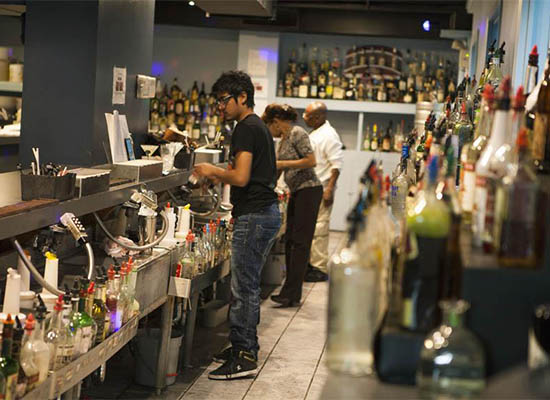 A student creating a cocktail according to the recipe. Image source: Manhattan Sideways
The American Bartender's School competes with the New York Bartending School to be known as the best bartending school in America. Since 1969 American Bartenders School has developed direct relationships with thousands of bars, clubs, restaurants, hotels in the greater NYC area ABS offers a 40-hour, full-certification bartending course in Full day, Part Day, as well as flexible programs. This allows for learning to be customized to complement the flourishing careers of bartenders. Over the last 40 years, ABS has gained a lot of popularity for its best job placements department. They help thousands of their graduates find full and part-time jobs.
The Mixology Academy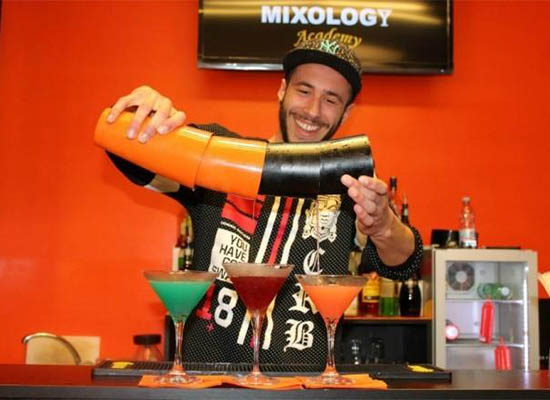 Bartender pouring in multiple cocktail glasses. Image source: Bartender-school.eu
The Mixology Academy is a professional Academy for Bartenders. All courses at the Mixology Academy are taught under the guidelines of our Global Bartender Program, the most modern and efficient bartending method. At their academy in Rome, they conduct many specializations alongside their bartending course. These special courses include specialized certifications in HACCP courses, fruit carving, and garnishing, sommelier, and tastings.
The Mixology Academy is proud to be the only bartender school in the world with a 600 sqm space distributed over 5 modern rooms for a total of 93 workstations. The school also offers business strategy consulting and sales projections for bars and cafès throughout Rome and across Italy.
The Spirit Lab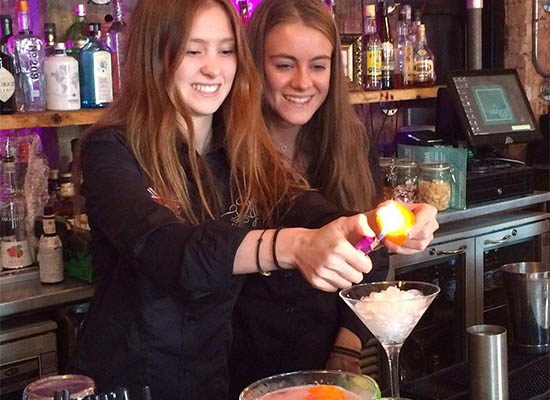 A young woman using a lighter to torch a lemon. Image source: The Spirit Lab Twitter
The Spirit Lab aka London Institute of Bartending is one of the UK's most celebrated bartending schools. They provide UK's Most Professional and best-recognized Qualification in a 1 to 1 format. This school has one of the fastest certifications recognized in the UK and in 70 countries globally.
The Spirit Lab won Best UK Bar School 2018 & 2019 and currently offers Basic and Advanced formats which take around 35 hours to complete. They are also accredited by WSET, People FIRST / HOSPITALITY GUILD, Guest Program, and IAMI. All the tutors at the Lab have held high-level positions in some of the best bars and brands throughout their careers and now help run a bartending school in the heart of London.
Victorian Bar School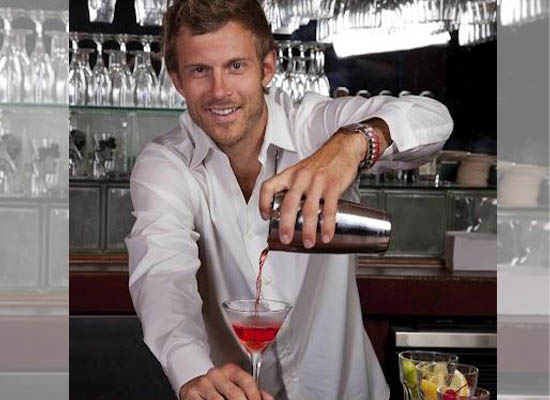 Bartender pouring cocktail. Image source: Cumaps.net
Victorian Bar School in Melbourne has been running Bartending Courses for over 45 years in Australia. First established in 1972, they host a variety of courses like Advanced Cocktails, Wine Knowledge and Wine Service, Opening and Closing Procedures, Beer Reticulation Systems, Cash Handling, Operate a Bar, Prepare and Serve Cocktails, Non-alcoholic Beverages, Suggestive Selling, and Customer Service, etc.
The courses are offered in a day, weekend, or evening schedule. These courses are comprehensive and will cover everything you need to know from tapping kegs and pouring beers to making cocktails and providing outstanding customer service. Another advantage of studying at the Victorian Bar School is that they offer the RSA Melbourne certificate which is the qualification needed to serve alcohol in any licensed venue in Victoria. Furthermore, they also issue a National RSA Certificate (SITHFAB002 Provide responsible service of alcohol), which is valid in some states outside of Victoria as well.
Article by Prithvi Nagpal, Editor & Sommelier, Beverage Trade Network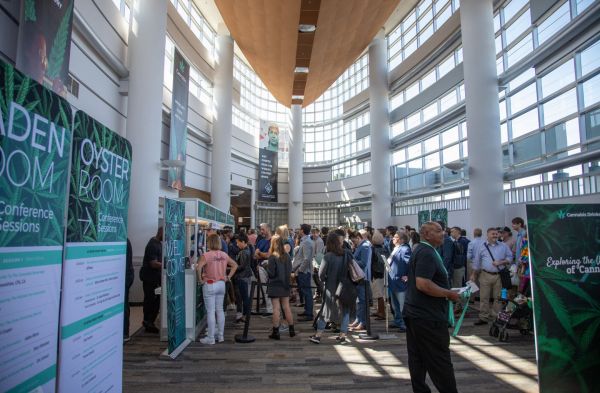 News
Discover fast growing cannabis drinks brands at the 3rd Annual Cannabis Drinks Expo on July 28 in San Francisco and on August 2 in Chicago.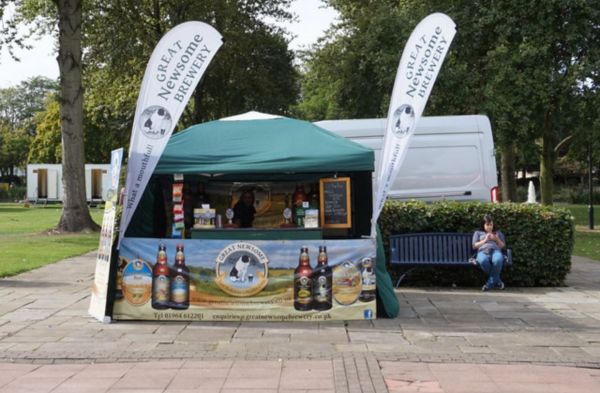 Insights
This trend is quickly gaining popularity because of one simple fact, the bar goes where the customers are, here is all you need to know about Pop-up Bars.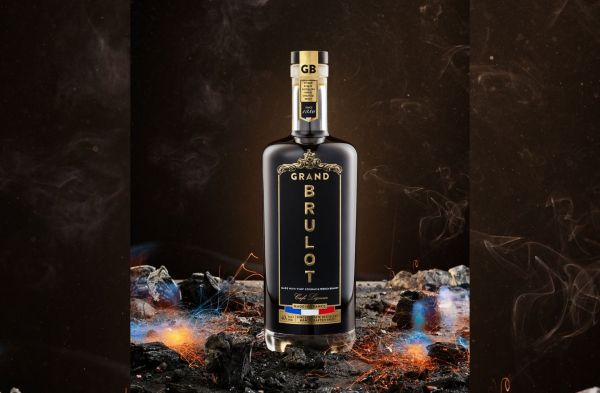 Suppliers Spotlight
An innovative take on an 18th century French tradition and a homage to a legendary New Orleans cocktail, Grand Brulot French VSOP Cognac Café
South San Francisco Conference Center, 255 South Airport Boulevard, South San Francisco, CA 94080, United States.
Register Now