Molecular Cocktails with Maritza Jeffers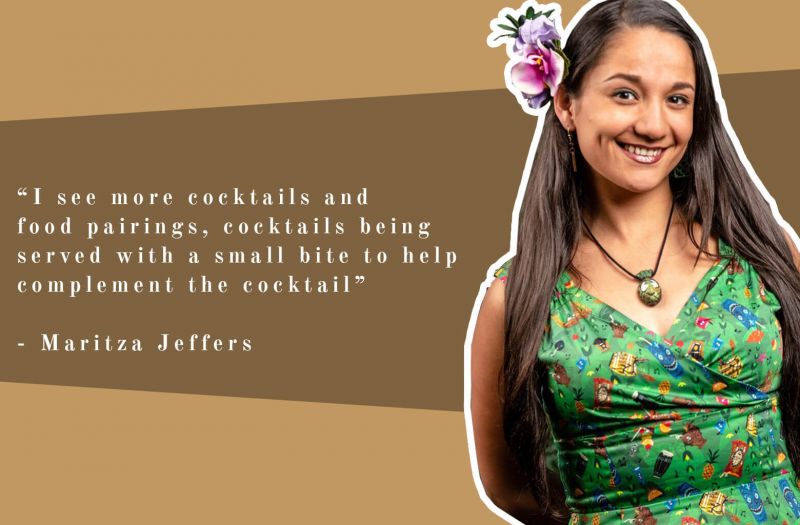 03/02/2021 She's looking for craftable spirits when buying for her bar and always studying to better her skills as a bartender.
Been Bartending for 9 years now, happy to say in many styles of bar programs. Maritza Jeffers loves to read books on all things about the cocktail craft. She has a full bar at home where loves to practice new tricks and create new cocktails for competitions or bar menu placements. She also loves to explore with exotic and rare ingredients as well.
Maritza loves to read about a subject that she is really into and master that subject for example; Amaro, Molecular Cocktails and Sherry. Her most current occupation deals with a lot of rum. For the past 4 years she has been very fortunate to learn all things about Rum, Rhum and Ron. As of mid June, 2020, she got hired as the Bar Manager for Tiki Tom's in Walnut creek, CA. As the bar went under new renovations, she was in charge of creating a new cocktail menu and trained all new staff for the new Tropical Concept.
Hi Maritza, where do you work?
Tiki Tom's, Pagan Idol & The Zombie Village.
What inspired you to get into bartending?
As a server with a strong follow of guest regulars at Olive Garden, half of my guests liked to start their evening at the bar with a small bite and a cocktail or an aperitif. Often I thought that I could someday be a bartender so my guests can stay and have their full dinner experience in one place. I was so eager to make sure my guests were happy. So I started to read on cocktails and get myself familiar with the bar so I started to train up .
How according to you has the role of the Bartender evolved, especially now during Covid times?
The Bartender will have to be much more knowledgeable about spirits and be more about the guest. Making sure that the guest is always well attended and that they have a great experience at your establishment.
What are some of the most important skills for a bartender to have?
Multitasking is key and a sense of urgency. These are my top two skills definitely needed to be a proper bartender. You should be able to make six cocktails , while talking to a guest, ring someone for their drinks, and place someone's food order as well. On top of making sure that the guest is satisfied and happy with their experience. And having all the knowledge about cocktails and spirits will be a plus.
What do you look for when you plan to buy spirits for your bar?
I look into the company's history, distillation process, if the company gives back to the community.
I mainly geek out in the distillation process, I like to taste the product blind. If it tastes well on its own, then I think of a classic drink to mix the product with and if it passes then I can consider to buy it. Mainly if it fits my bar program , I'll add it to my spirit list.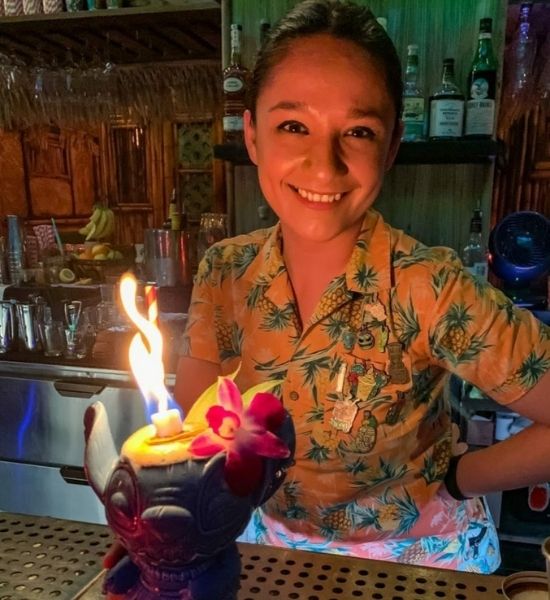 Maritza Jeffers at The Zombie Village
What support programs work best for you from suppliers?
Craftable , works best for our establishment. It works well with most liquor distributors. Making inventory and ordering a breeze. Keeping track of sales of each product while in service and helps drive sales with staff. Also reducing labor cost. It has an app so it works well with mobile devices.
What cocktails and drinks trends do you see in 2021?
I see more cocktails and food pairings, cocktails being served with a small bite to help complement the cocktail.
What's the best part of your job?
I love to create drinks, I'm always reading a book on cocktails or a style of spirit. I love to create drinks at home and at work. It helps on those nights when we use to get a guest order that is their choice drink. I like to be able to create a drink menu that I am truly passionate about. I like to be able to make my guests happy especially in these uncertain times.
What are your favorite TV shows right now? Or your favorite movie?
The Mandalorian!!! I am a 100% Star Wars nerd. All things Star Wars.
For a movie hands down will be Disney's Pixar Soul. It really hit home.
Maritza Jeffers
If you had to pick one spirit as your personal best which would it be and why?
This is a very hard one for me . I can't see myself without rum or gin. I will have to go with rum. I love how diverse the spirit is, It has many styles and ways to be distilled. It has an amazing history as well and has a good part in our cocktail history and prohibition.
How are you marketing your bar to drive some foot traffic during covid-19?
We are using social media to help drive our promotions .
Any tips for new bartenders?
Know your classics and history of both cocktails and techniques. Why you should always measure your ingredients for a well balanced cocktail. As well as pouring the least expensive ingredient first then your spirit last. That way if you mess up or forget what you did then you have time to fix it before serving your guest.
What's the most underrated cocktail ingredient or spirit?
John D. Taylor Velvet Falernum, I really like how this ingredient helps by adding a different layer to your drink. Complements most tropical drinks, yet I feel It can make a great pair with Gin as well.
With the current pandemic, what will the F&B industry look like in the near future?
Looks like it will be busy for sure. Yet I think it will be a different world altogether, guests will be more knowledgeable about their spirits and cocktails they like to drink. I feel that the industry will have to definitely own in their history or story line of their company. Guests always come first and make sure that they are enjoying their time at your establishment.
Are there any permanent changes Covid will create in the bar industry?
Definitely the fact no one will be able to share a Rum bowl or a Gin punch. Also the fact we can't have a guest at the bar top and be able to have a more personal experience.
What is your most popular cocktail?
Mai Tai , Daiquiri and a Planter's punch
What cocktail trends would you like to see going away this year?
I'd kind of like to see the smoke fad go away.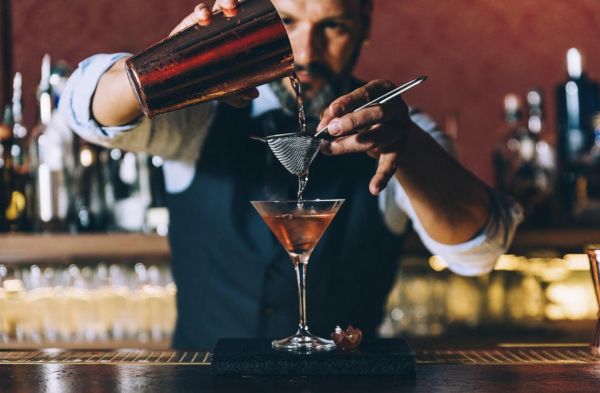 Insights
In these times of heavy competition, being good at your job is just not good enough. Take the path to greatness by following these tips.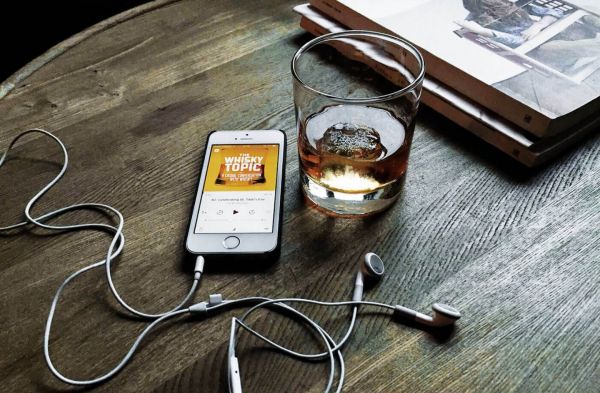 Insights
Podcasts about spirits have become very popular in the food and beverage genre. Here are 10 spirits podcasts that you should tune into today.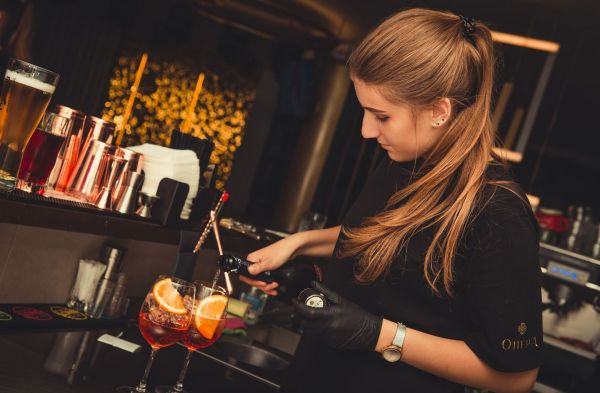 Operations and Management
Here is how you can enhance your experience behind the bar to ensure that your customer has a great experience on the other side of the bar.
South San Francisco Conference Center, 255 South Airport Boulevard, South San Francisco, CA 94080, United States.
Register Now