Five side hustles that could complement your Bartending Career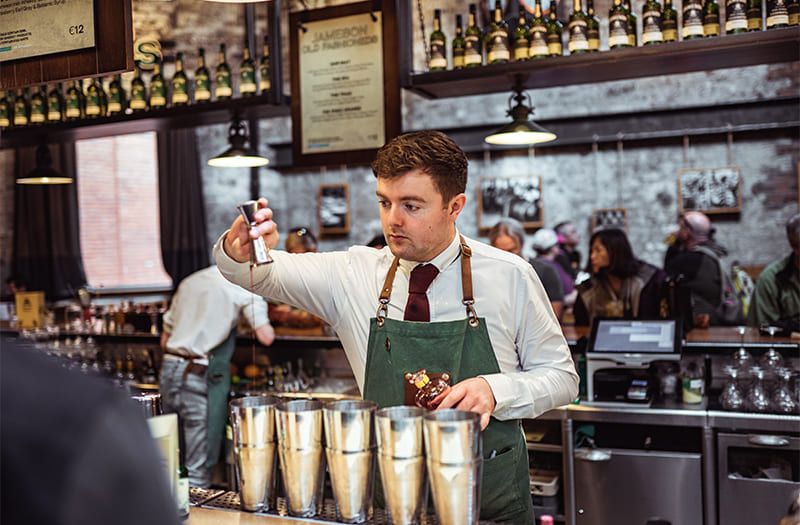 22/10/2021 While Bartending is considered one of the most popular side hustles, here are five side hustles for Bartenders to extend their expertise and scale their impact.
You have been in the trade for a few years now. Work is great, you are learning on the go. Every Week, you get introduced to newer spirits and wines or newer ways of having spirits and wines. You have your regulars who keep coming back for the cocktails you make. They tell you that no one around the world makes them this way and that makes you happy. What if you taught the world how to make it? What if you post a photo of the product or the process and it blows up? Bartending is one of the most sought after side hustles. But the ones who have been in the trade for years can ascertain how hard one has to work to acquire new skills to keep up with the trends that turn to requests. Here are five side hustles you should consider alongside Bartending:
Monetize on Instagram

Source: Skyy John aka Tipsy Bartender
If you made the perfect Aperol Spritz in 2019 and continue to cater to these ephemeral and endless requests of beautiful drinks from Instagram, it is high time you put yourself on the map. For many, bartending is a performance, a way of telling a story, a way of giving the audience something more to remember than just the taste. You could take this performance to Instagram. Be it pictures of the drinks you make on the regular or recreation of trending drinks, beautiful images will always have an audience on Instagram. You can monetize this audience through paid collaboration with brands that are directly or adjacently related to bartending. Having a captive audience will not only provide you access to elite experiences but also help you market yourself better to surge your earnings. Your Instagram account could also share recipes, tutorials, hacks, and QnAs. This will help your audience relate to your content, aspire to visit your bar to enjoy your creations, and will position you as a thought leader and an industry expert.
Teach Bartending via online/offline Classes

Source: Bartending course on Typsy by Charlie Ainsbury
Bartenders spend years in training and are always learning something new. While you strive to be a master of all trades, do you ever find yourself thinking that your life would have been a little easier if someone taught you the basics and unspoken practices very early on? A virtual or in-person course could be a great way to give back to the art and science that made you who you are today. Spirit and wine enthusiasts are always on the lookout to learn and acquire new skills and to acquaint themselves with newer experiences.
Your paid courses could start with a broad Bartending 101 for absolute beginners and niche down to more specific skill-sets or experiences. This range of courses could be priced variably. You could also take on-demand experiential classes for visitors and attendees at different wineries, distilleries, and trade shows. While the course fees and branded classes would amount directly to an additional source of income, you could also sign exclusivity with different spirits and wine for branded classes or include their branding in your ongoing classes at a premium price.
Become a Reviewer

Source: Steve the Bartender YouTube
Tried a wine that continues to linger on in your memories? Believe a drink is absolutely underrated? Know a special recipe that is a perfect modern twist on a classic drink? Talk about it! Blogging about wines and spirits is now also a full-time job. If writing is not your glass of whiskey, you could try doing video reviews instead. Drink reviews and challenges are taking the internet by storm. With the right understanding of your target audiences, you could recommend a range of drinks, bars, brands, home kits, tools, accessories, and so much more via a blog or a YouTube channel.
Rating and reviewing the newest releases, curating selections, and promoting events and festivals can be encashed to bring a steady flow of money, network, and experience. Not only will this also help you upskill as a reviewer, but it will also help you up the ante in your day job. With considerable followership or readership, your blog or YouTube Channel could also get you invited to co-create or write for popular liquor magazines, websites, and blogs around the world.
Brew syrups and mixes for retail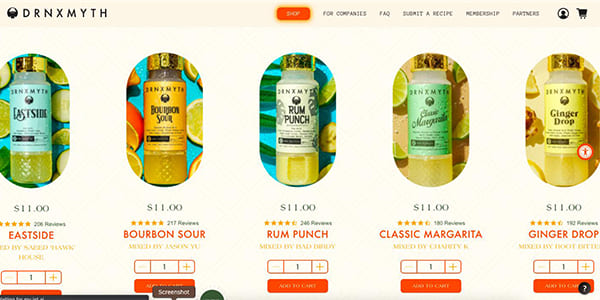 Source: DRNXMYTH
If you have mixes that make your drinks unique and recipes that you treasure like family heirlooms, you could consider retailing them! Syrups and mixes today are heavily popular in the FMCG product category. They can be used to make cocktails and mocktails at home by spirit enthusiasts who sometimes prefer a night in than going to a bar. These syrups and mixes could be retailed by themselves or could be sold as a part of an at-home bartending kit. They also have the potential to be co-branded alongside spirits that they could go well with. If demand is generated, you can also co-sell unique drinks made with these mixes right out of the bar where you practice, ensuring both an additional income and a consumer review.
Organize events for spirit enthusiasts in your city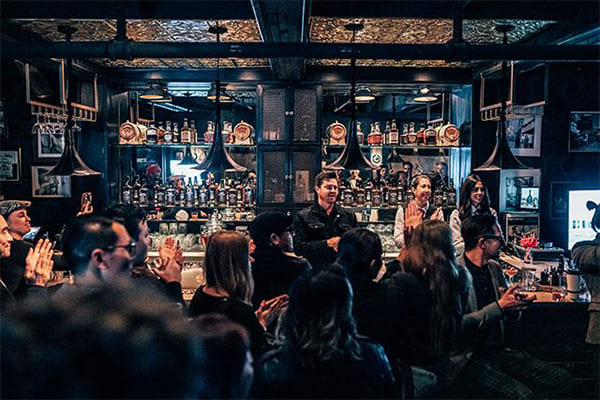 Source: Jack Daniel's Art of Side Hustle events
Every Bartender looks out for the biggest wine and spirit events happening around the world. While that is a part of the trade, one can also participate in them in their own right by making these events accessible to local audiences. Branded wine tastings, local chapters of awards and events, wine appreciation lessons, Drinking Challenges, and so much more can be a part of a tight events schedule that you plan. These events bring you an opportunity to represent a brand, teach some skills, and earn per attendee per event. Events are also a great way to network with other sommeliers, bars, and wineries in your city and district. It could lead to collaborations and invites for you to be invited as a guest bartender, a brand ambassador, a spokesperson, and a community leader too. This could also generate opportunities to be a freelance bartender for special events and occasions. You can also establish yourself as an individual that the community looks up to and looks forward to hearing from which will, in turn, make you strive harder towards professional success.
Fun Fact: You could do one, three, or all five of these side hustles together! All you need is to get started, open yourself up to opportunities, and believe you can do it!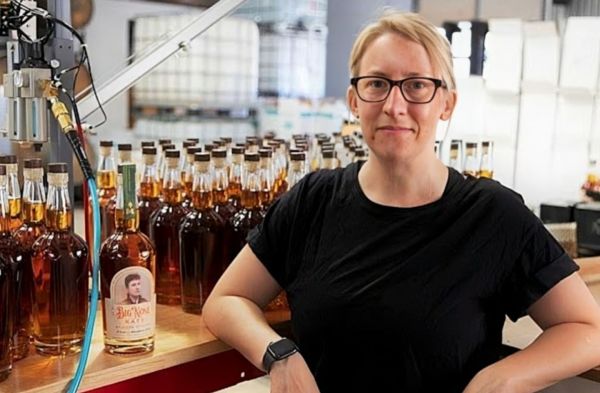 Interviews
Mel Heim - Co-Founder and Partner at Big Nose Brands, Inc, talks about Big Nose Kate Western Whisky and discusses her role as a whiskey entrepreneur, whiskey blender and product director.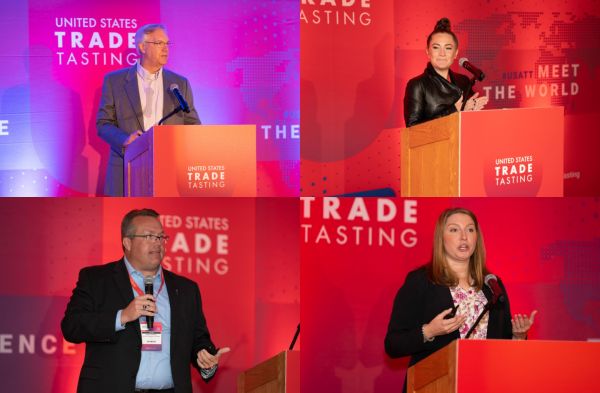 News
Mark Braver, The Fifty/50 Group; Michael E Klauer, Momentum Beverage Team: Jeremy Kruidenier, Wine and Spirits Distributors of Illinois and more take the stage at USATT 2023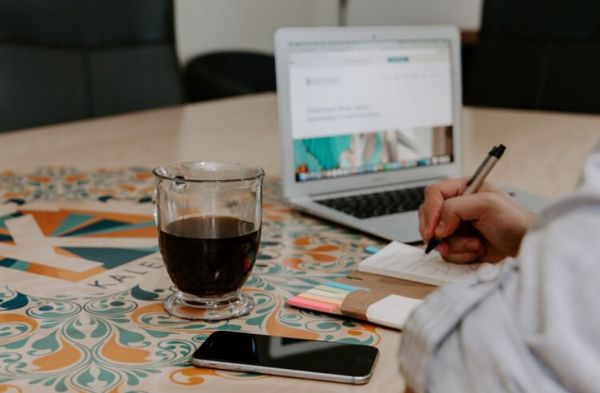 Operations and Management
The pandemic is disrupting businesses all around. In this talk by Sid Patel, he tells you what a leader needs to do now and how to do it.
South San Francisco Conference Center, 255 South Airport Boulevard, South San Francisco, CA 94080, United States.
Register Now